Immigration Battle
A new generation of activists — with far-ranging backgrounds and political beliefs — is changing the face of immigration reform.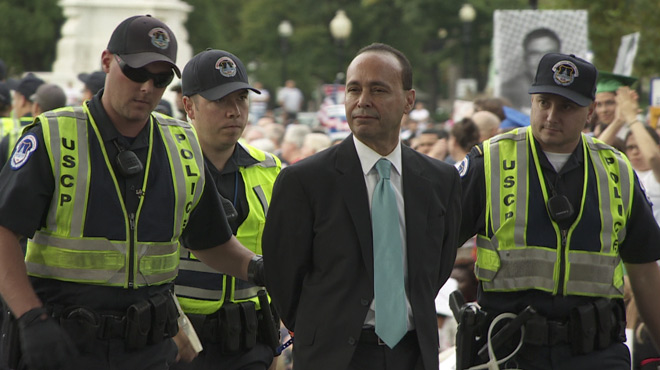 Series

Frontline, Independent Lens

Premiere Date

October 20, 2015

Length

120 minutes

Funding Initiative

Series and Special Projects
Producer/Director
Shari Robertson
Shari Robertson grew up in Texas and New Mexico where she trained in anthropology and ethnographic film. She began her career in the Southern Highlands rainforest of Papua New Guinea with the Bosavi people, observing the effects of rapid culture change on a small-scale tribal society. Since then, her work has often examined difficult situations in… Show more inaccessible places: young Khmer Rouge guerrillas crossing Cambodian minefields; Indian archaeologists fighting to restore the wondrous ancient temple of Angkor Wat; and the tragi-comic crossroads of domestic politics and the American drug war in Peru. Since the early '90s, Robertson and husband Michael Camerini have worked together from their production company, The Epidavros Project, in New York City. Together they have filmed oilmen in Eastern Java, parliamentarians throughout Africa, coca growers in Peru's Upper Huallaga Valley, and tribal elders in Kankan, Northeast Guinea. In every case, they've worked to understand and translate into film the life experience of a particular group of people for audiences in other places. In 2000, they completed their first US collaboration, an inside look at the American political asylum system which became their groundbreaking feature documentary, Well-Founded Fear (POV, 2000). Show less
Producer/Director
Michael Camerini
Michael Camerini shoots, directs, and produces films and documentary series that traverse geographical and subject areas as diverse as women's rights and social change in India, artists both famous and not yet famous, and the struggle to balance religious and cultural identity with mainstream values in the United States. His approach to filmmaking is… Show more notable for a camera technique that is fluid and nonintrusive, and a style of filming that encourages people to tell their own stories, whatever the cultural context. An interest in what it means to be a foreigner is the unifying theme in his work. Show less
We fund untold stories for public media.
Learn more about funding opportunities with ITVS.
The Film
What happens when a country changes, and the democratic process can't keep up? When the political system refuses to accept and respond to what's happening on the ground?
The story is truly nationwide now: millions of families living with the fear or the aftermath of the disaster of deportation; the rapidly growing faith community devoted to persuading their brethren of the Biblical mandate to "welcome the stranger"; the high tech alliance with traditional immigrant advocates; the potential voting power of millions of Latino and Asian kids turning 18 every year.

Immigration Battle is a look at the people from all walks of life and all political persuasions trying to make immigration reform happen, and reveals in depth the ways individual action has transformed the political landscape. The film will take viewers on a journey with the new activists who represent a changed national reality.

As new voices to the national debate, they struggle to be heard in the labyrinth of ambition, political calculation and policy-making that is the current Congress. And it is the intersection of these realities that reveals a deep and true portrait of America at this moment, becoming something new.
Topics