Jonathan Scott's Power Trip
Solar energy evangelist and "Property Brother" Jonathan Scott journeys across the U.S. to uncover why clean, renewable energy isn't available to all.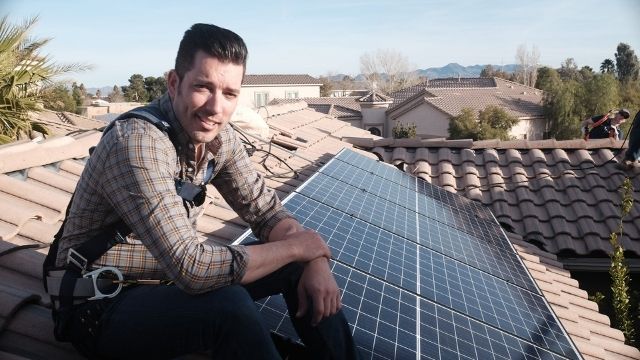 Series

Independent Lens

Premiere Date

November 16, 2020

Length

83:50 minutes
Director
Jonathan
Scott
Jonathan Scott is an executive producer with Scott Brothers Entertainment (SBE), an award-winning production company based in Toronto, Canada that he founded with his twin brother, Drew. Jonathan and Drew host multiple top-rated HGTV series, including the Emmy-nominated Property Brothers and Brother vs. Brother, which air in more than 160… Show more countries. Jonathan is also a best-selling author, Billboard-charting recording artist, and social media influencer, with millions of followers across his digital platforms. With offices in the U.S. and Canada, Scott Brothers Entertainment  is a multifaceted production company that strives to develop cutting-edge entertainment for TV, film, and OTT platforms. SBE is the proud recipient of the 2019 Banff World Media Festival award for Most Innovative Company. Jonathan and Drew have written three New York Times best-sellers: Builder Brothers: Big Plans (2018), It Takes Two: Our Story (2017), and Dream Home: The Property Brothers' Ultimate Guide to Finding & Fixing Your Perfect House (2016). In 2017, Jonathan was named Habitat Humanitarian, the highest recognition offered by Habitat for Humanity. Jonathan is also a longtime advocate of environmental responsibility and the advancement of clean, renewable energy. In 2019, he co-wrote and published the e-book Knowledge is Power with Vice President Al Gore and his NGO, Climate Reality, about the power and impact of solar energy on our lives and economy . For more information about Jonathan Scott, visit TheScottBrothers.com or follow @MrSilverScott on social. Show less
We fund untold stories for public media.
Learn more about funding opportunities with ITVS.
The Film
The key to environmentally friendly, cost-effective energy freedom is literally shining down upon us. In sun-soaked Las Vegas, Jonathan Scott harnesses that power by installing solar panels on his own home. But when Nevada's Public Utility Commission takes every possible opportunity to suppress that type of competition, Jonathan realizes the barriers to energy independence are powerful, insidious, and by no means unique to his hometown. His stymied attempt at efficiency sparks equal parts fury and curiosity. Becoming an energy choice activist, Jonathan sets out to explore layers of innovation-stifling manipulation perpetrated by energy industries throughout the United States. On his journey to learn both the obstacles and opportunities for achieving energy freedom, Jonathan talks with conservatives fighting for solar freedom; he sits down with farmers struggling to make ends meet; engages coal workers desperate for a new, healthy means of making an income; religious leaders who made a desperate attempt to help meet their community's energy needs; and politicians at the forefront of the battle for energy freedom. Jonathan Scott's Power Trip asks and uncovers the answer to the question, "Why don't more Americans have the choice to go solar?"
Topics