Shadow of the Holy Book
Immoral companies do business with the dictatorship of oil-and-gas-rich Turkmenistan, thus helping to hide its human rights and free speech abuses.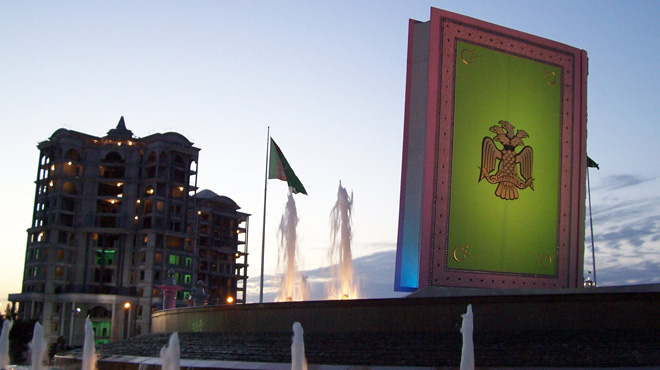 Premiere Date

September 14, 2009

Length

60 minutes

Funding Initiative

International
Award
2007 International Documentary Film Festival Amsterdam (IDFA)-Joris Ivens Competition Selection
Award
2008 Taiwan International Documentary Festival-Audience Choice Award
Award
2008 Batumi International Art House Film Festival, Georgia-Jury Special Prize
Award
2008 International 1001 Documentary Film Festival, Turkey-Honorary Recognition
Award
2008 The Finnish State, Finland-Quality Production Award
Nominated
2008 European Film Academy-Prix Arte Award
Award
2009 International Film Festival and Forum on Human Rights (FIFDH)-Grand Prix Award
Producer/Director
Arto Halonen
Arto Halonen has directed numerous films, including the documentary films Pavlov's Dogs, Conquistadors of Cuba, The Tank Man, The Star's Caravan, A Dreamer and the Dreamtribe, and Karmapa – Two Ways of Divinity. In 2005 the Minister of Culture in Finland awarded Arto Halonen the Finland Prize, the highest annual prize in the arts given by the Ministry of… Show more Culture and the state. Among other prizes, he has received the Humanitarian Award of the European Union in 1998. Halonen is also the founder and the first festival director of the DocPoint, the Helsinki Documentary Film Festival. Show less
We fund untold stories for public media.
Learn more about funding opportunities with ITVS.
The Film
Turkmenistan has some of the world's largest oil and gas reserves in the world — along with one of the worst records on human rights. Western companies long supported the country's dictator, Saparmurat Niyazov (who called himself Turkmenbashi), through translating and praising the Ruhnama, his book of social and political propaganda and revisionist history. Shadow of the Holy Book explores how some companies use the Ruhnama to gain access to the country's rich resources.
Topics