Sons of Cuba
Deep in the the unseen heart of Cuba, a group of young boxers fights not only for their own dreams, but for the fading memory of the Revolution.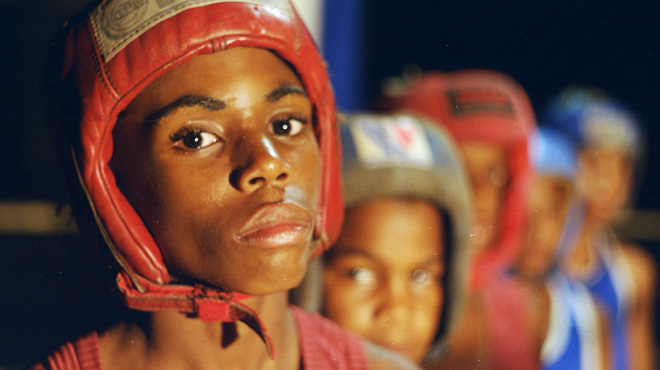 Series

Global Voices

Premiere Date

August 7, 2011

Length

90 minutes
Producer/Director
Andrew
Lang
Director Andrew Lang's passion for documentaries began with his study of documentary filmmaking in Cuba and Chile. His thesis on distinguished Chilean documentary filmmaker Patricio Guzman further fueled a desire to pursue subjects in these countries. He has made a number of short documentaries in Chile including Stop, Barrio Bravo, and The Gringo Diaries… Show more and a documentary in Cuba: Do(n) Mayor, the story of a famous Cuban guitar maker. Victory is Your Duty is the fruit of years spent gaining exclusive access to the Havana state academy for young boxing protégés. Show less
Producer
Laura
Giles
Laura Giles is an driven entrepreneur and co-founder of Trinamite Productions. She worked on Touched by a Stranger and Unborn, and is co-producing the feature film Secret Hunter.
Producer
Francine
Heywood
Francine Heywood is a business professional who has recently changed her focus from technology and media to film production. Francine co-founded Trinamite Productions which has made several short films, including Touched by a Stranger and Unborn. Sons of Cuba was her first documentary film. She is also producing the feature film Secret Hunter, which is… Show more an adaptation of a novel by Sir Ranulph Fiennes. Show less
We fund untold stories for public media.
Learn more about funding opportunities with ITVS.
The Film
In the last seven Olympic Games in which Cuba has competed, it has won a
staggering 32 medals for boxing. The world knows the names of the great
Cuban boxers: Stevenson, Savon, Kindelan and Rigondeaux, but few people
know how this secretive third-world island produces such an endless
stream of champions.
Every year, some 25 boys aged between 9 and 11, chosen from hundreds of
young hopefuls, are selected to attend The Havana Boxing Academy. The
state pays for their accommodation, training, and lodging; and through a
strict training regime, starts them on the road to becoming the best
boxers in the world. The routine is intense. The boys are awakened at 4:00 AM
every morning to train for two hours in the dark. Their meager breakfast
is a single egg and a cup of milk, before they attend a full day of
(often politically motivated) lessons at the local primary school. At
4:30 PM they are back on the training ground for another two hours.
Sons of Cuba follows the stories of three young hopefuls — Cristian,
Santos, and Junior — as they prepare for the most important tournament of
their young careers: Cuba's Under-12 National Boxing Championship.
Topics