Sunset Story
The only lucid residents at a retirement home, best friends Irja and Lucille experience later life with vitality, dignity, humor, and purpose.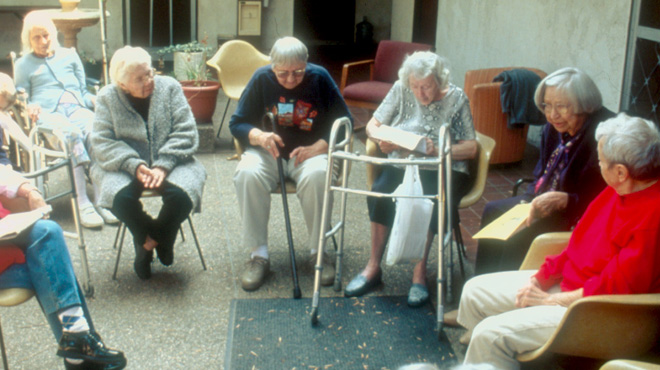 Series

Independent Lens

Premiere Date

March 22, 2005

Length

60 minutes

Funding Initiative

Open Call
Award
2003 Los Angeles Film Festival-Audience Award for Best Documentary Feature
Award
2003 Tribeca Film Festival-Special Jury Award
Award
2004 France Film Festival, Agen-Best Documentary
Award
2004 Miami International Film Festival-Grand Jury Special Citation for Best Documentary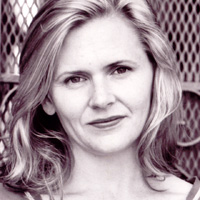 Producer
Laura
Gabbert
While in graduate school at UCLA's School of Theater, Film and Television, Laura Gabbert produced and directed the hour-long documentary The Healers of 400 Parnassus, which aired on PBS, was distributed worldwide and won a 1997 National Educational Media Silver Apple Award. She also associate produced the ITVS feature Tarantella, starring Mira… Show more Sorvino, and produced the feature film Getting to Know You (1999 Sundance and Venice Film Festivals), a Joyce Carol Oates adaptation that premiered at the Film Forum in 2000 and had a limited theatrical run. Gabbert co-wrote and produced a second Joyce Carol Oates adaptation, Love My Way, and produced the feature film Chinese Baby, starring Megan Mullally. Show less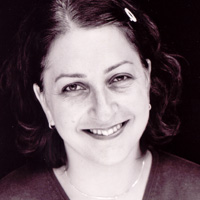 Producer
Caroline
Libresco
Caroline Libresco is feature film programmer for the Sundance Film Festival, where she coordinates the World Cinema program. Prior to joining Sundance, she was a programming and communications specialist for ITVS. She was also associate director of the San Francisco Jewish Film Festival, senior publicist for the San Francisco International Film… Show more Festival, and development director at U.C. Berkeley and the Library Foundation of San Francisco. She co-wrote and produced the gritty independent feature Fanci's Persuasion, directed by Charles Herman-Wurmfeld. She also produced Barrier Device, an award-winning featurette starring Sandra Oh. Libresco is currently developing a documentary on the life and times of Detroit activist Grace Lee Boggs. Show less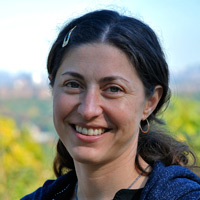 Producer
Eden
Wurmfeld
Eden Wurmfeld began her producing career in 1994, on her brother Charles Herman-Wurmfeld's experimental feature Fanci's Persuasion. She then served as production manager on Doug Liman's directorial debut Swingers and went on to collaborate with Liman on See Jane Run. Wurmfeld is best known for producing the indie hit Kissing Jessica Stein. After its… Show more successful release, she was named one of Variety's "10 Producers to Watch" and was also a finalist for the IFP's Indie Spirit Motorola Producers Award. Wurmfeld was awarded UCLA Film School's Alumni Association Award in 2003, and is producing the family drama Son of A G-Man, written and to be directed by Will Geiger (Ocean Tribe), as well as Adam Corrolla's film debut The Hammer. She and Herman-Wurmfeld are developing a half-hour comedy pilot with Brillstein-Grey called Bringing Up Mom. Wurmfeld co-authored The IFP West Independent Filmmaker's Manual (Focal Press), a "cookbook" on how to make an independent film. Show less
We fund untold stories for public media.
Learn more about funding opportunities with ITVS.
The Film
Deep in the heart of central Los Angeles lies an unusual retirement home. Founded in 1923, Sunset Hall caters to the "free-thinking elderly," integrating aging with progressive activism and giving its residents the opportunity to engage with the causes they hold dear. Sunset Story delves inside the world of two of Sunset Hall's most lucid residents, 81-year-old Irja Lloyd and 95-year-old Lucille Alpert, whose feisty engagement with life draws them together.
Like many of their fellow residents, Irja and Lucille wrestle daily with the obstacles of aging. However, their friendship, in their words, has "saved both of our lives." After moving into Sunset Hall within weeks of one another, they soon form an unbreakable bond — socially, intellectually, and physically. In order to be assured of stimulating conversation and emotional sanity, the two sit together at every meal and every meeting.
Sunset Story follows Irja and Lucille for a period of several months as they venture out for manicures, political protests and meals at their favorite deli. Meanwhile, at Sunset Hall, they are among the few who speak up during political discussions and the only ones alert enough to care about the appalling menu offerings. When Lucille receives a terminal cancer diagnosis, Irja must confront the possibility of losing her lifeline.
Sharp-witted, up-to-date, and often provocative, Irja and Lucille are unafraid to share their opinions on men, sex, gender roles, and social attitudes toward the elderly. In a culture in which the elderly are often isolated and discarded as "unpleasant" reminders of the aging process, Sunset Story explodes familiar stereotypes, portraying two friends' search for meaning and connection with unexpected emotion.
Topics