We Breathe Again
Five Alaska Natives confront historic and contemporary traumas in a stunning landscape as dramatic as its stories.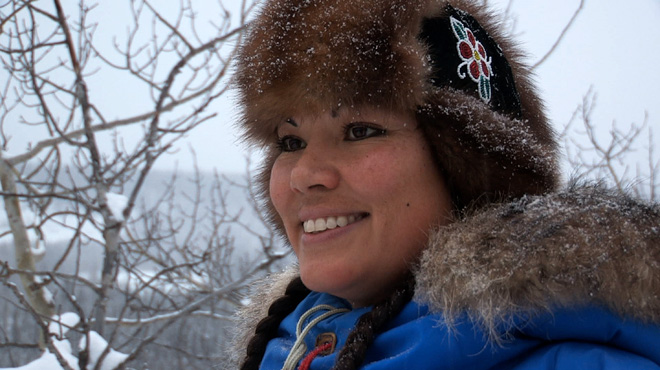 Series

America ReFramed

Premiere Date

September 26, 2017

Length

60 minutes

Funding Initiative

Open Call
Producer/Director
Marsh
Chamberlain
Marsh Chamberlain is a film and television professional based in New York City. Marsh has worked on numerous films, television shows, and commercials including projects for Ken Burns, ESPN, Nike, The Human Brain Project, Cayman Islands, Nokia, Warrior Poets, and Vision Maker Media. As a filmmaker he has directed, shot, produced, and edited a number of… Show more short documentaries, bringing him all across the country. Marsh strives to engage audiences through innovative storytelling, brave and sensitive filmmaking, and a focus on unique voices. Marsh is the owner and founder of the media production company Crawl Walk Run. Show less
Producer
Evon
Peter
Evon Peter is Gwich'in and Koyukon (Alaska Native) from Arctic Village, Alaska; he is a leader amongst Alaska Native tribes. Evon was appointed Vice Chancellor for Rural, Community and Native Education at the University of Alaska Fairbanks in July 2014. Evon served three years as Chief of the Neetsaii Gwich'in (Arctic Village). As a community leader and… Show more advocate, he served in numerous board positions including Vice Chair to the Council of Athabascan Tribal Governments, on Tanana Chiefs Conference board of directors, and as Co-Chair to the Gwich'in Council International. His international work includes participation in the Arctic Council and United Nations forum and locally has focused on implementing behavioral health, leadership and workforce development projects. Since 2009, he served as CEO of Gwanzhii, LLC, a firm providing strategic planning, program development and other services to private and public institutions throughout Alaska. Evon was featured in the 2005 award-winning documentary Homeland: Four Portraits of Native Action and has produced several short Alaskan documentaries. He resides in Fairbanks with his wife and four children. Show less
Producer
Enei Begaye
Peter
Enei Begaye Peter is of the Diné (Navajo) and Tohono O'odham Nations. She is an experienced grassroots organizer and an active speaker, strategist, and writer. Among other recognitions, Enei was named one of Utne Reader's "50 Visionaries Who Are Changing Your World." Enei has worked in service to Indigenous communities through non-profit… Show more organizations for many years. She is a co-founder of non-profit organization Native Movement and served as a long-time co-director of the Black Mesa Water Coalition. Enei grew up on the Navajo reservation in Northeastern Arizona; she is Stanford University-educated and currently lives in Fairbanks, Alaska. Show less
We fund untold stories for public media.
Learn more about funding opportunities with ITVS.
The Film
Rarely heard of 40 years ago, suicide among Alaska Native peoples is now a silent epidemic — 3.5 times higher than the national average — and affecting Alaska Native men between the ages of 15-24 at the highest rate in the country. Alaska's rate of alcohol-related deaths is more than double the rest of the nation, with Alaska Natives accounting for half of those deaths.
For centuries Alaska Native peoples survived the harsh conditions of life in the far north while their social, cultural, and spiritual practices thrived. In the 1700's the battle to claim Alaska and its peoples began, first with Russia and then the United States, setting into motion disruptive changes for Alaska's first peoples. The painful scars from colonization continue to cycle from one generation to the next. Faced with heartbreaking challenges, Alaska Native communities are striving to recover and regain balance.
In a landscape as dramatic as its stories, We Breathe Again intimately explores the lives of five Alaska Native people, each confronting the impacts of historic and contemporary trauma. Reflected in the northern lights and the city streetlights, from the ice roads to the asphalt, the characters battle for personal healing, hoping to break new trail for their families and their communities to follow.
Topics