Whose Country?
A Cairo-based filmmaker recounts his interaction with a group of plainclothes policemen while grappling with issues of guilt and morality.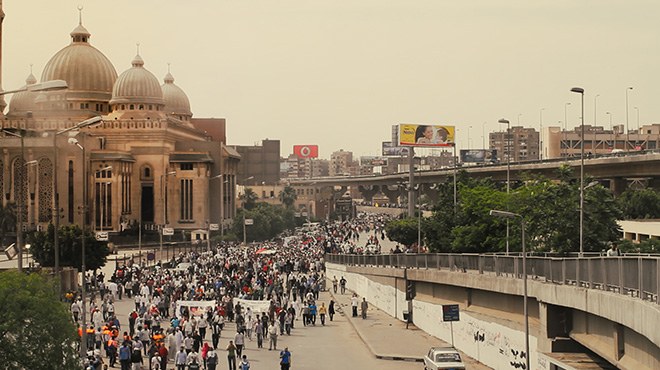 Series

Global Voices

Premiere Date

July 17, 2016

Length

60 minutes

Funding Initiative

Open Call
Award
2017 Chicago International Film Festival-Silver Hugo, Best Documentary
Award
2017 Carthage Film Festival (JCC)-National Center for Cinema & Photography, Best Cinematography
Award
2018 BBC Arabic Film Festival-Best in Journalism Prize
Director
Mohamed Siam
Siam is a documentary and fiction filmmaker from Egypt. After a brief period studying psychology, he then studied filmmaking before working in the cinema industry in Egypt as an assistant director on narrative feature films. As a director, Siam has received several international grants in support of his film projects, including from Sundance, IDFA… Show more Bertha Fund, Catapult Film Fund, Hot Docs-Blue Ice Group Fund, and OIF, among others. He is a Berlinale and Durban Talent Campus alumnus and has also participated in various workshops and labs, including at Sundance Institute, IDFA Academy, Doc Campus and La Fabrique des Cinémas du Monde, where he presented his documentary film Amal (winner of a Robert Bosch Foundation Film Prize, a Docs-In-Progress Award at Thessaloniki and the AfriDocs Prize at Durban FilmMart). Siam's cinematography can be seen in The Trials of the Spring and The Path (dir. Senain Kheshgi) – both films co-produced with ITVS. Show less
Producer
Talal Al-Muhanna
Talal Al-Muhanna is a film and TV producer who develops documentary and fiction films with filmmakers of Arab descent. Films that he has produced have screened at numerous festivals internationally, won awards and have aired in Europe and the Middle East on TV5Monde, Aljazeera, Arte, ZDF, NRK, NTR, YLE, SVT, and DRK. Talal co-executive produced (with… Show more Artline/Paris) Rise of the Gulf, Beyond Black Gold (a.k.a. EMIRS) – one of the most-watched documentary series on French TV in 2014 - and script-edited the feature documentary version of the series. His Grand Prix award-winning arts documentary Disportrait was nominated by the Danish Film Academy for Best Short Documentary at the 2015 Roberts Awards in Denmark. Currently, he is also script editor and producer of the documentary Egyptian Jeanne d'Arc (winner SANAD prize at JCC Carthage 2015) and co-produced Lebanese documentary Room for a Man (supported by Screen Institute Beirut and AFAC). His projects have also been supported by Tribeca Film Institute (USA); Doha Film Institute (Qatar); Enjaaz (Dubai); Visions Sud Est (Switzerland); CNC & Rhone-Alpes Cinema (France); MDM film fund (Germany); and MEDIA/Creative Europe. Talal holds an MA in Film & Moving Image Production from Leeds Metropolitan University in the UK and a Certificate in Fundraising from New York University. He has served on film juries for Beirut Film Station and Talents Beirut and, in 2015, was selected as a Producing Fellow at the Center for Asian American Media. Show less
Co-Producer
Bruni Burres
For over 20 years, Bruni Burres has worked at the intersection of arts and culture and human rights as a festival director and curator, a media educator, creative producer and social media strategist. She is currently a Senior Consultant for Sundance Institute's Documentary Program and is a consultant for Good Pitch and Chiledoc. She is also a senior… Show more program advisor for the Middle East Now Festival in Italy. From 1991-2008, Bruni was the director of the Human Rights Watch Film Festival. Bruni has been the co-writer and associate producer of Beyond My Grandfather Allende, which won the prize for Best Documentary in the Director's Fortnight program of the 2015 Cannes Film Festival. Show less
We fund untold stories for public media.
Learn more about funding opportunities with ITVS.
The Film
A young Egyptian filmmaker narrates this highly personal account of his interaction with a group of Cairo policemen over a period of 3 years – from right after the outbreak of the Egyptian revolution (in 2011) until the removal of ex-President Morsi by the military (in 2013).
As he forms a close relationship with one Cairo cop in particular, the filmmaker recognizes he is entering into something that once was, for him, a previously forbidden circle: He is the son of a criminal investigator, but one whose father never confided in him about his difficult line of work.

As the filmmaker gradually gains the policemen's trust, they begin to share with him their stories and firsthand accounts of corruption and abuse. They also express their hopes and fears about the direction the country is headed as the political landscape in Egypt undergoes turbulent change.

Narrated in English by the filmmaker, Whose Country? reveals not only why police injustice was a widely reported cause of the 2011 Revolution but also how the perpetuation of injustice within the security forces itself led to widespread dissatisfaction amongst the lower ranks too.

With the policemen blaming "the system" for making them behave they way they do, the filmmaker is forced to confront these Cairo cops and himself with questions of morality and guilt.
Topics